"When you go on the internet, please pray for the Hoffman Family – your missionaries to Cyberspace."

Volume 34 Issue 4 (July/August/2021)
Greetings in the name of our Lord and Savior Jesus Christ!
---
The Latest News:
July and August were rough months. Maureen ended up with a kidney stone, and required laser surgery to break it up. She is recovering. Stent was removed 08/12.
We attended the East Texas Baptist Camp Meeting and picked up a new hosting client.
Bob has been asked to preach at Pleasant Valley Baptist Church to fill the pulpit on 08/08, 08/15 and 08/22.
---
Church Website Ministry: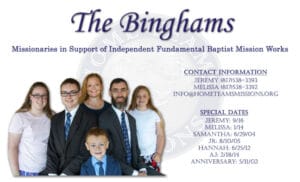 I was contacted by Missionary Jeremy Bingham to set up a website for their ministry Hometeamsmissions. Brother Jeremy and his family are a "Missionaries in Support of Fundamental Baptist Mission Works." Brother Bingham already had a domain, hometeamsmissions.org. He wanted to set up a website to link to support sites for missionaries. After we talked a while, they decided to try "Link Up Gold" (which is the platform baptist-ministries.org is running on). After trying Link Up Gold for a while Brother Jeremy decided he wanted to try WordPress. I set up WordPress for hometeamsmissions. It is an honor to support Brother Bingham as he provides support to other missionaries.
---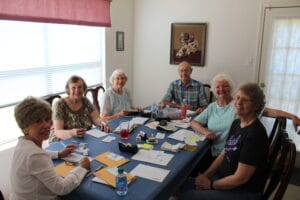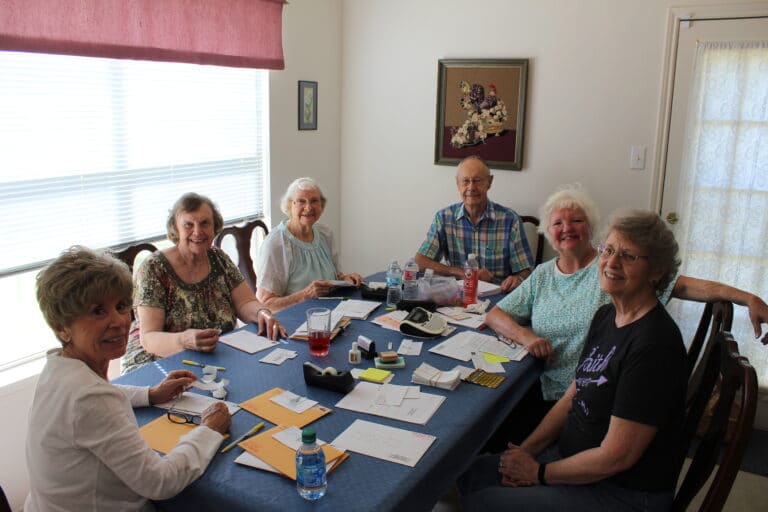 Bible Correspondence Courses: We want to thank Katherine Feguer, Barbara Kaemmer, Lydia Henrici, Lorraine Meier, J.L. & Florence Smith for helping with the Bible Correspondence courses over the last quarter.
2nd Quarter Stats:
Lessons 1,000
Certificates Issued 34
Students 134 (23) are prisoners
Countries: England, India, Nigeria, Philippines, Puerto Rico, South Africa and USA
One Prisoner in Connecticut finished all the lessons that we offer.
Here are some comments we received from people that are taking the correspondence courses:
• A prisoner from South Carolina writes: Thank you for another really good Bible study. I really enjoyed these lessons. I appreciate you taking the time to send them to me and for being my teacher/grader while I take these courses. Thank you so very much for everything you do for me. I will look forward to receiving some new Bible study lessons. Please keep me and all the men here in your thoughts and prayers as we truly do need them. Peace & blessings.
---
Tract Ministry: We have "given out" over 137,000 Bible Tracts online.
---
Social Networking Outreach: 
---
Support:  We are currently at 70% of support for our ministry expenses
---
Prayer Needs:
Pray with us about getting a back up generator. Need the Lord's direction and leading on this.
Would you consider praying for us when special needs arise? If so, please subscribe to our prayer warrior's mailing list.: http://eepurl.com/SYbI9.
---
Specific Financial Needs:
• Advertising Costs $150 per month for gospel tract outreach
• Our old server costs were $1100 for 2021
• We had to take on a new server due to capacity issues. Cost $502 per year.
---
Please consider a donation. FamilyNet is a 501 (C)(3) charity. Donations are tax deductible in the US – You can donate via PayPal (Donate button is on https://cyber-missions.org) or mail a check:
FamilyNet International Inc
P.O. Box 451951
Garland, TX 75045
(214) 257-0229
In Jesus' Service,
Bob and Maureen
Phil 1:3